$119 NYC USCIS Civil Surgeon Immigration Doctors
Statcare's four USCIS-certified Civil Surgeons do $119 Immigration Medical Exams all 7 days a week including night time at 5 NYC area locations in Brooklyn, Queens, Bronx & Long Island. All our locations are near Subway or LIRR Train Stations. Statcare's Brooklyn Office is open until 10PM. Other offices are open until 8PM. All offices are open on Saturdays, Sundays and all Holidays.
The United States Citizenship and Immigration Service (USCIS) designates which Green Card doctors can perform immigration medical exams for the purpose of US citizenship and Green Card.
Update: Technical Instructions For Syphilis For Civil Surgeons: Laboratory Testing: (Syphilis) Tests performed elsewhere, or prior to the Civil Surgeon Office visit are not acceptable.  Also, USCIS is updating the I-693 form again.  It is most likely eliminating PPD Testing and replacing it with blood tests for TB, starting October 2018.
$119 is the lowest price in the tri-state area. Save yourself a bundle today. Looking for a flat fee all inclusive service? Please be careful when any office advertises that. Check online for the real prices of PPD ($53+), Tdap ($66+) and MMR ($99+) at CVS or Walgreens or call these chains and you will realize no individual practice can actually get real vaccines cheaper than these nationwide chains. Besides, how can people from all over the world fit into a "one size fits all" standard vaccination requirement? Every country vaccinates differently.  So, when it comes to flat fee, all inclusive offers, you really don't know what is going on. Make sure you know what you are getting injected into your body.
WHY COME TO STATCARE'S USCIS CIVIL SURGEONS FOR IMMIGRATION MEDICAL EXAM?
1. Expertise: Statcare has done over 3500 Green Card Exams for patients from 50+ countries.
2. Transparent Pricing: Statcare charges $119 USCIS Civil Surgeon fee (includes blood test for RPR), $75 for Urine GC Test, $85 for IGRA (Quantiferon test)
3. Convenience: Statcare has four USCIS Civil Surgeons working at 5 locations that can be accessed via public transport all week.
4. Access: Statcare is open Sat., Sun. & Holidays for USCIS Green Card Medical Exams. Open at night, too!
5. On-site Blood draw and Urine collection. Save a trip to the Lab!
6. On-site X-Rays if you need it for positive Quantiferon. Save a trip to Radiology!
7. All vaccines available On-site if you want them. Else get them at the free clinic!
8. Statcare is open late all weekdays. Brooklyn Office is open until 10PM, other offices until 8PM.
9. Statcare is located close to or above the Subway and LIRR. All locations are near a bus stop.
10. Statcare is a walk in immigration and Green Card medical exam facility. An appointment will save you time. Call now!
Statcare is your one-stop shop for all your green card physical exam needs!
The $119 discounted fee includes
Any vaccines you might want are at additional cost. Any X-Rays you might want cost extra.
The USCIS mandated Gonorrhea Test costs an additional $75. This test is a new requirement in form i693 as of August 01, 2016.
Statcare has convenient green card physical locations: the Astoria location is within walking distance from the subway (N and R trains / Ditmars Blvd.), the Brooklyn location is above the Franklin Avenue subway stop and the Hicksville location is within walking distance from the LIRR (Hicksville train station). Statcare also has a greencard physical location in the Bronx in Co-op City with convenient parking in the mall, as well as a second Bronx location at East 174th Street.
Statcare civil surgeons perform immigration medical exam services all 7 days a week at Hicksville, Long Island; Astoria, NYC; Brooklyn, NYC; and the Bronx, NYC.
Statcare is convenient: You can come to Statcare until 8 PM on weekdays, and 5 PM on weekends and holidays. Statcare in Brooklyn is open until 10 PM on weekdays.
Statcare opens at 8 AM and provides all USCIS immigration i693 forms. Just bring $119 ($109 visit charge + $ 10 lab fee for RPR Syphilis Test) + your passport + your vaccination records. Cash and credit cards are accepted at all locations. Checks are not accepted.  The Gonorrhea Test can be done anywhere by you. Just bring us the results.  The Lab Fee for the Gonorrhea Test at Statcare is $75. The Lab Fee for IGRA( Quantiferon) Test at Statcare is 85$.
Unlike other places, Statcare does blood tests and Chest X-rays and keeps all vaccines in stock (if you need any) so you don't have to run around getting everything accomplished. Also, Statcare can expedite your immigration medical for a small fee. Vaccines are not included.
Statcare opens at 8 AM. For faster service, call us and book your visit now! Call (855) 9 FOR DOC
Statcare: The # 1 Choice of NYC Immigration Attorneys for USCIS Civil Surgeons!
Priti Jain, MD is double-board certified in emergency medicine and internal medicine. Michale Ihmeguba, MD, Sandeep Jain, MD, Priti Jain, MD and Lyudmila Shtein, DO are all certified by the United States Citizenship and Immigration Service (USCIS) as Civil Surgeons to provide immigration medical check-ups for Green Card applicants seeking to become a US permanent resident.
Since 2009, our USCIS-approved civil surgeons have performed more immigration medical exams and completed more Form I-693's than anyone else on Long Island. Green Cardapplicants come to Statcare from all over New York, New Jersey, Connecticut, Pennsylvania, and Washington DC to get their immigration medical exam services and Green Card physicaldone.
You can see Dr. Jain's official USCIS certification letter as an example: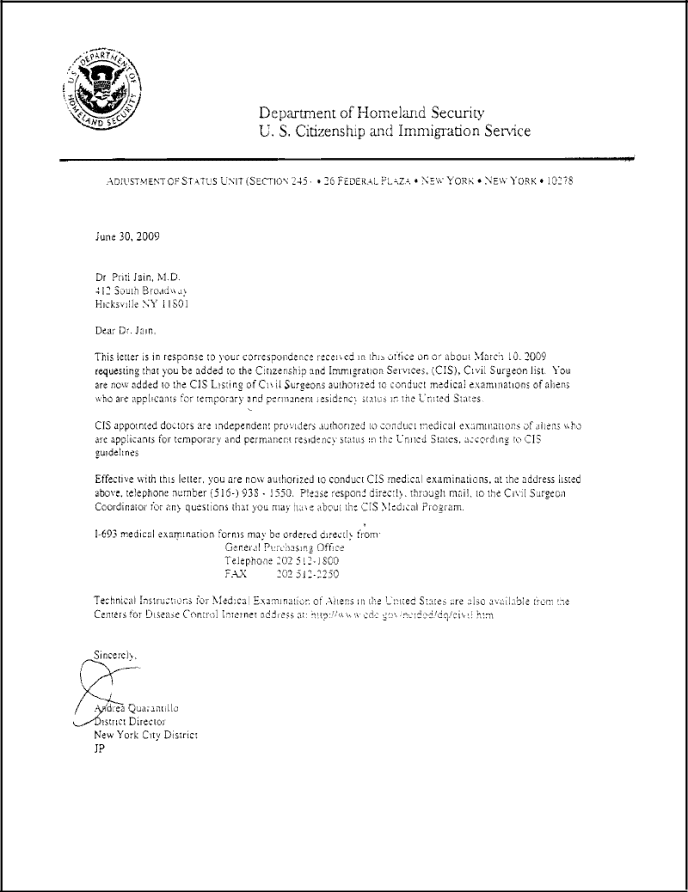 Come to Statcare for all your emergent care, urgent care, and medical needs, including physicals and vaccinations.
We are open 365 days a year, including weekends and all holidays!
Statcare serves the Long Island residents of Nassau County, Suffolk County, Queens, and Brooklyn, as well as the Bronx in NYC. If you have any questions about any conditions we treat or services we offer, call (855) 9 FOR DOC today.
USCIS Civil Surgeon
Applicants for US Immigration and Citizenship have to apply for an adjustment of status (Form I-485). At the time of filing for an adjustment of status, the immigrant has to go through a medical examination by a USCIS-certified civil surgeon. The immigration form used for the Green Card medical examination by the USCIS civil surgeon is called an I-693 Form.
This medical examination cannot be done by regular medical doctors. The immigration medical exam has to be conducted by a USCIS civil surgeon who has been designated by the United States Citizenship and Immigration Services (USCIS), which is a component of the United States Department of Homeland Security (DHS).
Difference Between a USCIS Civil Surgeon and a Panel Physician
Depending on the immigration benefit sought by the immigrant, he or she may be required to undergo a medical examination. All immigration medical examinations conducted for the purpose of immigration to the United States have to follow this process.
If the immigration applicant resides outside the US, they can go to a USCIS-designated civil surgeon inside their country. These USCIS-designated civil surgeons are called panel physicians. Panel physicians are designated by the Department of State.
If the immigration applicant resides inside the US, they have to go to a USCIS-designated civil surgeon in America. These USCIS-designated and approved immigration doctors are called civil surgeons. Civil surgeons are designated by the USCIS.
Responsibilities of USCIS Civil Surgeons
Civil surgeons have to perform the immigration medical examination according to the Technical Instructions for the Medical Examinations of Aliens in the United States (Technical Instructions or TIs), published by the Centers for Disease Control and Prevention (CDC) in Atlanta, Georgia. These Technical Instructions as described on the USCIS website, include:
The Tuberculosis (TB) Component of the Technical Instructions for the Medical Examination of Aliens in the U.S. 2008 (effective May 1, 2008);
Adjustment of Status for U.S. Permanent Residence Requirements: Technical Instructions for Vaccinations 2009 (effective Dec.14, 2009);
2010 Technical Instructions for Mental Disorders and Substance Abuse for Civil Surgeons (effective June 1, 2010);
2013 Technical Instructions for Syphilis and Hansen's Disease (effective January 1, 2013); and
Any updates to the documents listed above as published on CDC's website. (Gonorrhea update effective August 01, 2016)
Each of these documents and updates to the USCIS civil surgeon's responsibilities can be obtained from the CDC's website.
Failure to comply with any of the Technical Instructions may result in USCIS revoking the civil surgeon's designation.
Finding a Green Card Medical Doctor for Immigration Medical Exams
Medical examinations in the United States are typically required for adjustment of status cases and may also be required for requests for "V" non-immigrant status (Form I-539).
If you are in the United States currently, the immigration medical exam must be conducted by a physician designated by USCIS (also known as a civil surgeon). To find an approved Immigration doctor near you, visit the USCIS website.
If you are applying from outside the United States, the immigration medical exam must be conducted by a physician designated by the US Department of State (also known as a panel physician). Visit the Department of State website to find an approved immigration doctor near you in your country.
Form I-693, Report of Medical Examination and Vaccination Record
All immigration and naturalization applicants filing for adjustment of status to get a Green Card or a lawful permanent resident status must submit Form I-693 completed by a USCIS civil surgeon. Form I-693 is used by the civil surgeon to report results of a medical examination to USCIS.
As per the USCIS regulations, anyone coming into this country must have the same level of immunization and protection from diseases that US citizens in America have. The examination is required to establish that an applicant is not inadmissible to the United States on public health grounds. A list of those health grounds can be found in section 212(a)(1) of the Immigration and Nationality Act.
Green Card Medical Examination Fee
Statcare has the lowest fee in the tri-state area. USCIS does not regulate the fees charged by USCIS civil surgeons for the completion of a Green Card medical examination. Rates vary by city, state, and physician. The immigration medical examination may not be billed to your health insurance plan.
Completing Form I-693
Statcare provides you with the most recent version of Form I-693, Report of Medical Examination and Vaccination Record. So you do not need to print or bring any Form I-693 to your Green Card medical exam appointment.
Once you arrive in our offices, you will be asked to fill out the top part of Form I-693. Do not sign until the civil surgeon has seen you and asked you to. The USCIS civil surgeon will use Form I-693 to document your medical history, your vaccination status, and the results of your medical exam.
The USCIS civil surgeon will complete, sign, and seal Form I-693 and any supporting documents in an envelope. Do not break the seal on the envelope given by the civil surgeon. You must submit the sealed envelope to USCIS as directed in the Form I-693 instructions.
IMPORTANT: Do not break the seal or open this envelope containing a completed Form I-693. USCIS will not accept any Form I-693 if it is not in a sealed envelope or if the envelope is altered in any way. The Form I-693 is valid for 12 months and in the rare case that you need a renewal, Statcare offices keep a scanned copy for future use.
Where to File the Form I-693
After completion of the immigration medical examination, our civil surgeon will give you the completed Form I-693 in a sealed envelope for submission to USCIS. Do not alter it. USCIS will return the form to you if it is not in a sealed envelope or if the envelope has been opened or altered.
As per the USCIS, the applicant has to submit the Form I-693 to USCIS, not the civil surgeon.
As per the USCIS, if you are applying for adjustment of status, you may submit Form I-693 in one of the following ways:
Submit Form I-693 by mail, together with your Form I-485, Application to Register for Permanent Residence or Adjust Status, to the location specified for your Form I-485
Submit Form I-693 by mail, after filing your Form I-485, to the location specified in your most recent communication with USCIS (for example, a Request for Evidence letter from USCIS)
Other applicants: Follow the instructions on or included with the application or the instructions given to you by the office requesting the medical examination.
Special Instructions
As per the USCIS, any Green Card medical exams completed on or after January 1, 2012, must be reported using a version of I-693 no older than 10/11/11. If a medical examination completed on or after January 1, 2012, is submitted using any version older than 10/11/11, USCIS will reject the form and require the applicant to return to the civil surgeon in order to complete and resubmit the current version of Form I-693. The USCIS released a new 9-page I-693 in 2016 and is now completely revamping the entire application form on October 1, 2018. Stay tuned.
USCIS requires most applicants seeking to adjust to lawful permanent resident status to submit the results of a medical examination by a designated civil surgeon on Form I-693, which indicates whether an applicant is or is not inadmissible to the United States on public health grounds.
Note: To ensure the results of the medical examination are still valid at the time USCIS adjudicates the associated benefit application, applicants should schedule the medical examination as close as possible to the time they file for adjustment of status, respond to a Request for Evidence, or attend an interview (if applicable). Applicants should, however, also provide sufficient time for the performance of laboratory testing or additional testing required under CDC's Technical Instructions.
If We Received Vaccines in Our Own Country, Will We Still Need Shots?
Most people have complete vaccination records from their countries. Others may be missing a flu shot for example. Every case is unique depending on the age and the country you come from. This takes time and expertise to figure out what exactly you may need. You will need to be seen before we can help you with this.
However, it would be fair to say that in America, children get more vaccinations than other countries. When a child gets rubella, it spreads to other kids and teachers and their families. It also helps prevent sick days lost to illnesses.
But vaccines are very expensive and a lot of other countries cannot afford to vaccinate their populations with all the vaccines available out there. Or their vaccination schedules may vary from the US.
For example, even today, many countries, including some eastern European nations, only give shots for measles in childhood. No rubella shots. No vaccines for mumps. And this is even after it has been known for a few decades that giving all three shots as an MMR shot actually yields better immunity to all three diseases.
In the US, we give MMR (measles, mumps, and rubella) vaccinations to all children so they have protection from all three diseases – not just one disease. Other countries may merely let the children get these diseases as they grow up since mass vaccination is an expensive proposition from a public health point of view.
It is your desire to become a US permanent resident or a Green Card holder or a US citizen. In that case, you need to follow these rules. If you refuse or lack any of these protections, your application may be denied or even terminated decades from today.
You must not take shortcuts with your immigration paperwork. When you plan to do your immigration and naturalization to the US, the USCIS requires you to catch up with all these vaccines so that your protections are at the same level as those already living in this country. You need to comply with these regulations. The USCIS civil surgeon, too, has to comply with these guidelines.